If you want your photo to be featured on this website
To be featured on this website you do not have to have 'the look' of a commercial print model or to be 'pretty'. Women of all ages, heights, and sizes are welcome.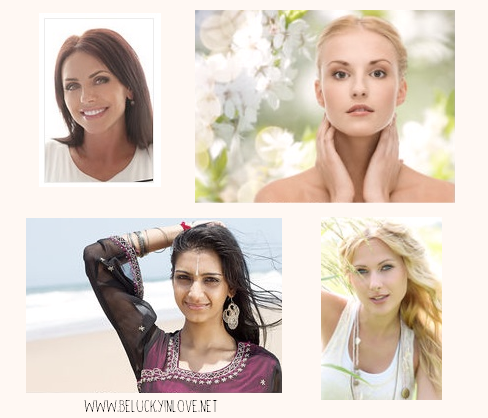 As you may or may not know, some of my articles on this website are accompanied by images of women. If your photo meets the outlined below guidelines it will be added to an existing or a future article. As soon as that happens an email with a link to the page/article will be sent to you.
Photo Guidelines
I do not want you to fail, I want you to succeed, and that is why these simple, very easy to follow guidelines were created. Please do not send anything that does not meet these criteria. Thank you.
~ The size of the photo should not be smaller than 190 x 190 pixels.
~ You can try to imitate the images that are already posted on this website (see examples above). Feel free to use filters, brushes, etc.
~ The photo should be of good quality.
~ It is best to have little to no background. Be mindful of your background. Busy backgrounds are a deal breaker.
~ The photo should be color-coordinated. Just pick one dominating color and stick with it. If the image has multiple colors (red, green, blue, yellow, orange, violet etc) it will look too busy, unprofessional, and not easy on the eye.
~ No nude images or images with explicitly exposed body parts. This is a decent website for women (and men) of all ages.
~ Clothes made of plain fabric are preferred. Busy fabric looks bad on images.
~ You may want to see examples of those whose pictures got posted already here (photo #4) , here, and here.
If you think you may have such a photo in your portfolio already, use it.
Legal
~ Sending me your image (in case it gets published) means you are giving it to me as a royalty free gift. It becomes my property.
~ In case it is selected, I promise to publish your image on this website only. It will NEVER be published somewhere else.
~ No further steps will be required on your part. The image will be published for free.
~ I am not responsible if someone steals the image and posts it somewhere else. Content stealing and image stealing is a big issue these days. I do have 2 plug-ins installed that block 'copy-paste' and 'save as' functions but one never knows what else bad people can resort to to steal content.
~ Credit will be given to the photographer (if provided) and your name/location will be published (in case you wish). Please let me know your preferences.
Once all this happens, you may want to share this with your photographer, family, and friends. Plus, the readers around the globe will get to see your beautiful self! Also, in case you are pursuing a career in modeling and media you could use this page as a reference.
Please email your photo(s) to myphoto (at) beluckyinlove (dot) net. In case your image is selected you WILL be notified personally by me, the owner of this website.
Best Regards,
Alexandra Davis, the owner and the founder of www.beluckyinlove.net