Get dolled up for a date - makeup
ATTN: If you want your photo to be featured on this website please click here.
Ladies, let's get dolled up for your first date! The process will include your eyes, lips, and the skin of your face. These will be very basic and minimal suggestions of a classy, daytime makeup. Try them all, or only one at a time, it's totally up to you! The goal here is to only enhance your looks; you will not look overdone or unrecognizable.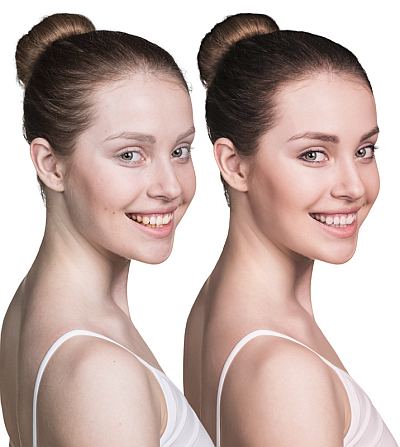 The 'before' and 'after' look on the image above can be easily achieved by following all the suggestions outlined below.
So, let's get started!
If you have a very pale face, and are not totally happy about it, there is an easy way to fix it - Jergens - sunless tan: (UK - click here
) Jergens Glow Face Daily Moisturizer Sunscreen SPF 20, Fair to Med, 2 Ounce
Apply it on your clean face, ears, and neck. Try to apply very little, and wash your fingers after applying.
There are some web complaints from ladies about the unfavorable results - an 'orange' color. The reason it happens is that too much of the product produces a strong noticeable color. There is absolutely no reason and need to apply a half of inch layer of the product on your face!
Apply just a tiny bit, and check the results after several hrs. If you are a pale-skinned person, you may discover that one light application is all you need. The color will stay for about 2-3 days. It does not get removed with makeup removers or soap, and it does not soil your clothes. As a result, your face will have a hint of a beautiful, healthy tan.
Face Powder. To always look beautiful and classy, I would like to suggest L'Oréal, "True Match Super Blendable Powder" (UK - click here
) L'Oreal Paris True Match Powder, Classic Ivory, 0.33 Ounces
. What makes this line of product different from the rest is that the L'Oréal has done a fantastic job in developing its colors based on skin tones: warm, neutral, and cool. When you use the right shade for your skin tone, the results are AMAZING.
The applied makeup looks very natural, as if it was tailored and made for you personally. So, identify your skin tone first: warm, neutral or cool, and then go with the shade (from light to the darkest). It may take several attempts to select the right shade for you, but once it is done, it's done, and you will be good to go for many months and years.
Matching Blush. L'Oreal Paris True Match Blush, Tender Rose, 0.21 Ounces
(UK click here
) Ok, ladies, if you absolutely refuse to use any sort of makeup, this product would be the easiest way to still make a DIFFERENCE. There's nothing like a healthy looking face with a lovely blush. Blush on your cheeks lifts your face, gives you a happy, healthy, fresh look, and is so easy to apply. When smiling, simply apply lightly on your cheeks, and you are done! A little caution here, DO NOT OVERDO.
Eyeliner. The liquid eyeliners are the best, especially the waterproof ones. You need to be careful though about the tip it goes with. I suggest selecting the ones with a thin tip. This way you can put it on in the way you wish.
Waterproof eyeliners are more practical because should you get caught in rain, feel hot and get sweaty, cry on a date (from laughing of course), the least thing you want to worry about is the running eyeliner. My suggestions are L'Oréal Telescopic Waterproof Eyeliner, Black 800. (UK - click here
) L'Oreal Paris Telescopic Precision Liquid Waterproof Eyeliner, Black, 0.06 Ounces
or a smudge proof (UK - click here
) L'Oréal® Paris Infallible The Super Slim Liner - Black 400 - Smudge-proof
.
There are different colors in these lines, but I would personally suggest sticking with the classic black or dark grey charcoal, if you are blonde. Once you are better with makeup, you will know how to use other colors (blue, brown, midnight, etc.) without looking like a clown.
Eye Shadows. I would suggest starting with neutral tones. You cannot really go wrong with neutrals. Neutrals go with everything, and look good on everyone. Again ladies, the rule here, do not overdo.
My personal suggestions: Bobby Brown brand (UK - click here
) Bobbi Brown Eye Shadow Bone 0.08 oz
, L'Oréal Nude color palette L'Oreal Paris Cosmetics Colour Riche La Palette, Nude 01, 0.62 Ounce
. The Bobby Brown brand is not the cheapest, but the quality of its products is OUTSTANDING. Its eye shadows outlast many brands because of their super fine texture.
Mascara. Beautiful bushy eyelashes look gorgeous on any woman! There are so many products, which one should you chose? I suggest sticking with a well known L'Oreal brand, Original Waterproof Mascara (UK - click here
) L'Oreal Paris Voluminous Original Waterproof Mascara, Carbon Black, 0.23 Ounces
It WILL ADD VOLUME to your eyelashes, open your eyes and make you look 'fresh'. Again, I would suggest waterproof for the reasons stated above. The product DOES NOT run, clump or flake.
Lips. Selecting the right lipstick color can be a great deal of a pain! It may look good in a store, but once you are at home or after wearing it for 1 hour, you may discover that it looks different. It is because the same lipsticks look different on different people. If you have neither desire nor patience going through this painful process, all I would suggest here is either a lip liner to just outline your lips, or a neutral shade of a lip gloss (UK - click here
) Burt's Bees Lip Gloss, Autumn Haze, 0.2 Ounces
CAN I REMOVE ALL THIS FROM MY FACE?? Sure you can remove it all!
Removing makeup is 10 times easier and faster than applying it. You will need: Cotton Balls 100 Pure Organic Cotton Non GMO Cotton Balls Triple Size 80 count by Organic Essentials
, Makeup Removing Cream Pond (UK - click here
) POND'S Cold Cream Cleanser, 3.5 oz.
and a Face Wash Neutrogena (UK - click here
) Neutrogena Fresh Foaming Cleanser, 6.7 Ounce
Stick a cotton ball into the jar of the Pond cream, get some product on it, and start wiping your eyes gently. One eye at a time, ladies! Once the eyes are free of makeup, wash your face with Neutrogena. It is soap free. If your face feels tight after washing, feel free to use your favorite moisturizing lotion. Another way to moisturize your face is to use coconut oil (UK - click here

) Nature's Way Extra Virgin Organic Coconut Oil, 32-Ounce
. By the way, it is good for everything, not just your face. It is good for your hair, lips, moisturizing all over, cooking etc.
Useful tips:

~ Once you master the process, putting basic makeup on should not take longer than 15 min. If you are constantly spending 45 minutes applying it, then you are doing something wrong.
~ Sometimes it takes several attempts (products) to find the right one for you. This is NORMAL, ladies, and should be expected. If you know your shoe size it does not mean that every shoe of that size will fit well, right? Or think about artists - it takes several sketches to produce a beautiful masterpiece. So, if eye shadows do not look well on you, or your face powder makes you look strange and unnatural - these are signs that you are using a wrong product (color). The good news is, once you find what works for you, you will be done looking.
~ Waterproof makeup tends to wear longer. Removing it with Pond cream is a breeze.
~ Once you have makeup on, you will not feel anything, and it will be easy to forget that it is there. For those ladies, who are not used to wearing makeup, there is a chance you may mess it up by accidentally rubbing your eye! I had it happen several times! When going on a date, just take some of the makeup with you in case it happens. Hopefully not.
~ Avoid cheap makeup. This especially pertains to compact powders and eye shadows. Cheap powders and eye shadows have little to no staying power, are easily blown off by moderate wind, and are just not worth it. Their non-fine texture makes them last for a very short period of time, and in the end you'll end up SPENDING MORE BY BUYING MORE!
Good quality makeup has a super-fine texture, goes on beautifully and easily, and stays on your face all day. That little box, you will spend money on, will last for a very very long period of time.
As an Amazon Associate I earn from qualifying purchases.
YOU MAY ALSO LIKE: Articles - How to pick the right lipstick color for your looks and Makeup for baby blue eyes
LEARN HOW TO APPLY MAKEUP - BEST SELLING BOOKS: (UK - click here
) Bobbi Brown Makeup Manual: For Everyone from Beginner to Pro
(hundreds of 5 star reviews!) or you may also like this e-Course: Skin Whitening Forever