Makeup for light blue eyes
If you have light baby blue eyes (not just blue eyes) AND have ever tried to pretty them up with makeup, then you have probably noticed that most of the time - when not done correctly - you look 'overdone'.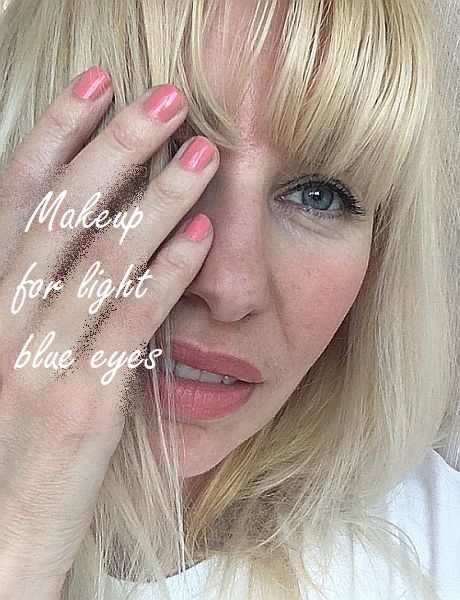 The tricky thing about light blue eyes is that most of the stuff out there is just way too strong for them. To make matters worse, I would assume that since you have light baby blue eyes, you probably have a very fair skin too which means that such a rare and beautiful angelic-like combo requires very special attention.
Why?
Because being 'overdone' means looking 1) tired 2) un-fresh 3) older 4) ridiculous (in business settings) 5) inappropriate 6) like you were crying all day.
Well, if you would like to find out how to look just the opposite of the above i.e. fresher, younger, and appropriate, then you will love what you learn here.
I created this article for every woman who has very light baby blue eyes, possibly fair skin and who is struggling to find a 'happy medium' – to look her best on a daily basis with a minimum effort on her part. The suggested below makeup does not take more than 10 minutes to apply. It is a very easy, simple, beautiful makeup that was developed for your angelic-like complexion (see the photo of ME above!). It is suitable for everyday use and is great for many occasions.
This makeup is great:
~ for work in an office
~ for working with customers and clients
~ for nurses, doctors or any other professional who deals with patients
~ for students
~ for job interviews
~ for women in their teens 20th, 30th, 40th, 50th and beyond. It is a truly classy makeup.
~ for staying home moms, young moms, housewives who refuse to let themselves go
~ for festive occasions
~ for traveling (vacation or business)
For starters, I have very light baby blue eyes and a fair skin (yes, that's me on that photo). About 3 years ago I took a makeup class and since then I could not be happier. The good thing is -  FOR YOU - that you do not need to take a makeup class (and pay for it, ouch). I'll share all my knowledge here with you for free. You also won't have to run around different stores looking for 'the right' color and then to return if something does not work (what a hassle!)  You won't even need to hire a professional makeup artist (and pay for a consultation). All you need to know you will find here, in this article.
One more thing, if you know a friend who happens to have light blue eyes, you may want to share this article with her. She will love you for this!
Step 1: Eyeliner. Takes less than 2 min to apply (being super generous here).
Apply an eye liner to your upper lid just like shown on the before and after images (yes, that's me again!).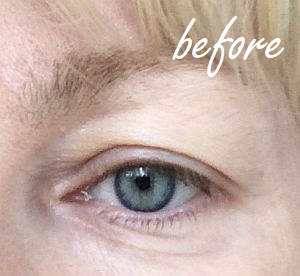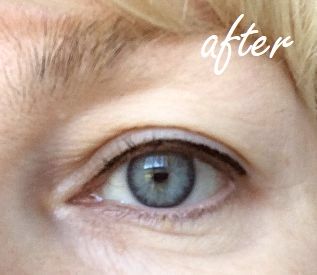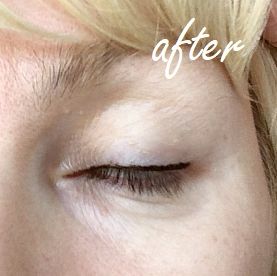 Suggested eyeliners: L'Oreal INFALLIBLE Liquid Eyeliner the Super Slim
400 Black 0.4mm precise felt tip

For your convenience, see it on Amazon
 (UK - click here
) or on eBay. It creates a very thin line. Your goal is to have as a thin line as possible otherwise you will look overdone. This eyeliner is easy to use because it makes it very easy to create a thin line. That's the trick #1 for you to remember – a thin line.
The above recommended eyeliner is not water proof but it wears all day. I am the living proof.
In case you want a waterproof one, here is an alternative: L'Oreal Telescopic Precision Liquid Waterproof Eyeliner
black 800 0.06 oz. For your convenience, see it on Amazon
(UK click here
) or on eBay.
Before applying make sure to remove access product off the tip (just like you remove extra nail polish from a brush when doing your nails) to create a thin line.
If you use this kind, then I would like you to be cautious with the container.

If you drop it by accident or even knock it over the product will easily spill over. It leaves permanent stains on fabric. I have one stain on my sheet and another one on my favorite quilt. The sheet and quilt were washed and the stain treated many times, but the stubborn ugly black stains are still there! Unbelievable!
If you have never used eyeliner, then it may take several attempts to get it right. Perhaps you have a friend who could show you? It is really not that difficult.
You may wonder why namely these eyeliners and not some other. I have a great answer for you: I tried a lot of them and it turned out that the best ones are those that have a 1) thin tip 2) wear all day. You can certainly go and start looking, but these two should be your sure bet. A zero risk for you.
In case you mess up use cotton swabs to wipe off the product.
Step 2: Eye shadows. Takes less than 2 min to apply
Please see the images below. We will be using two colors – brown and silver.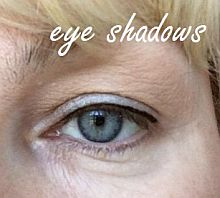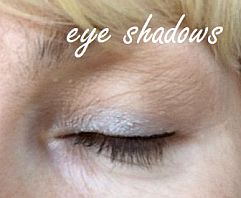 To apply brown color: semi-close one eye at a time and put a product on as shown on the image.
Now, we will be splitting this into 2 groups.
You are a 'warm' blonde if the color of your hair resembles color of a straw, if you have red hair, if you are a 'strawberry' blonde or any other type of blonde whose hair gravitate towards a warm color palette (on the image above is me and I am the 'warm' blonde)
You are a 'cold' blonde if you have your hair colored in black, if your natural color is 'dirty blonde' or you are an ash blonde.
Eye shadows for 'warm' blondes: MAKE UP FOR EVER Artist Shadow Refill
- 100% Authentic (M 536 Milk Tea) or NARS Eye Shadow Blondie
. Eye shadows for 'cold' blondes: BOBBI BROWN Eye shadow Wheat 30
.
Using wrong 'temperature' of eye shadows is not recommended. You want to look natural and 'well put together'; you do not want to look 'strange' or 'off'.
MILANI Eye Shadow Silver Bullet 12
. Use this beautiful product to enhance your eyes. You will be amazed at the results! Use just a tiny bit of the product to put on the mid-tips of your upper lids. Just above the line you drew with eyeliner. Please refer to the above images.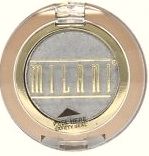 MILANI Eye Shadow Silver Bullet 12  - on Amazon
(UK - click here
) or on eBay

Step 3: Mascara. Takes less than 1 min to apply
I hope you know how to use mascara. You may have your favorite one which is OK. If you are not sure then here is my suggestion: L'Oreal Original Voluminous Mascara Black 305 4X Fuller Lashes
. In case you need waterproof - L'Oreal Voluminous Waterproof Mascara Black 360 4X Fuller Lashes
.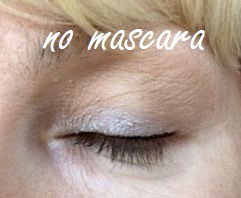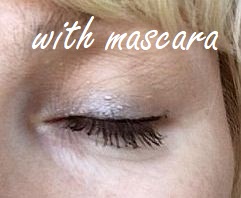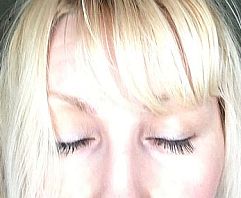 Both of these wear very well and I have never had any issues with them. These two have been on a market for many years and I hope they won't get discontinued.
I tried many different types and these two seem to work the best. Just look at those eye lashes on my before and after photos!
Well, we are all done now.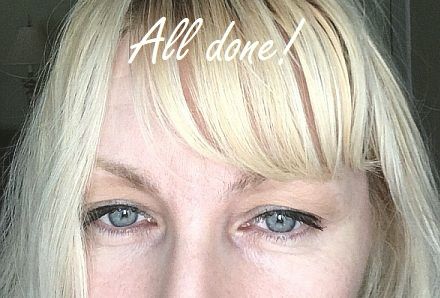 Was it easy? I think it was. Was it fast? Yes. Can you do it every day? Yes, you can, if you want to.
Well, I am just about to be done with this article, but I have this nagging feeling that most of you, after reading all this, would be like 'Wait a minute, how about the rest of the face??!!'
OK. It is a fare question. Should we continue then?
Even though the article is called 'makeup for light blue eyes' we will take the things further and talk about the rest of your face. We will be sticking to the same principle, however, which means keeping  things 'fast' and 'easy'.
Step 4: Skin of your face. Will take less than 2 min of your time for a 48 hr period.
You are probably wondering what it means.
It means that if you do not have fair or super pale skin, then you can continue sticking with your regular daily routine. This is for those who have fair or pale skin AND do not want to deal with messy foundations, concealers, and powders BUT would still like to have their skin darker that I am talking about here.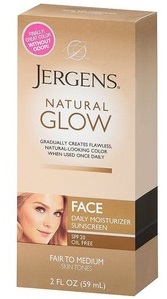 There is a very good way to slightly darken your pale skin. All you have to do is to use a sunless tan lotion.  Although, these lotions have been on the market for quite some time, the problem is that most of them stink. I mean, like REALLY STINK. I am not here to make your life miserable by suggesting a stinky lotion, I am here to help you find the right one.
Here it is: Jergens Natural Glow Face Fair to Medium
. Award winning color without odor. See it on Amazon
(UK - click here
) or on eBay.
It does not stink and produces amazing results. Since your skin is pale it won't require too much of a product to make it 'darker'. Just put the lotion on before going to bed and see the result in the morning. You won't be pale anymore! 
The effect lasts for 2 days. During these two days you can run, swim, take showers and do just anything. That beautiful color won't come off (and won't leave marks on your clothes!). It is a truly amazing way to solve a pale skin problem.
Step 5: Blush. Takes less than 30 seconds to apply.
Do you know what the universal effect of blush? No matter the face type, it always produces an 'uplifting' effect. Always!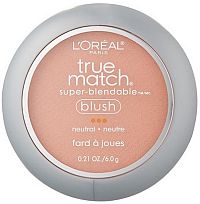 Here is the color that will work very well with your light blue eyes and your angel-like complexion (I have it on on the very first image of this article): L'Oreal True Match Super-Blendable Blush N3-4 Innocent Flush
(with a brush inside!). See it on Amazon
or on eBay.
Step 6: Lipstick. Takes less than 15 seconds to apply.
Here is the test: do you look good in coral red? If so, then this particular lipstick will work for you. It was actually picked by a professional makeup artist.
How?
If you are not sure what 'coral red' means, then let me tell you something interesting. The color of your light baby blue eyes is actually a very light version of a turquoise blue. If you look at the below color wheel the opposite (complimentary) color of such blue (black dots in 'blue-green' section) is coral red (a mix of orange and red - black dots in 'red-orange' section). That's your color!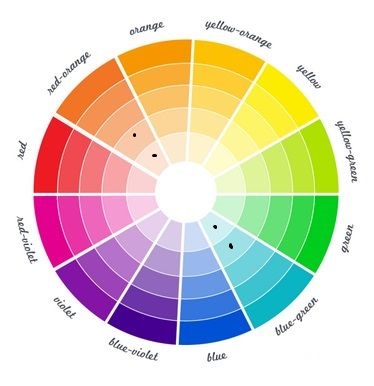 The color wheel is a cheat sheet that is used by artists, interior designers, web designers, and makeup artists to identify beautiful color combinations.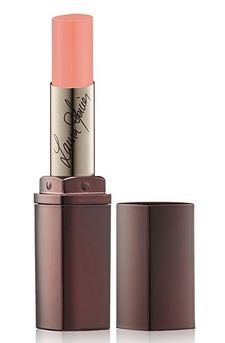 Dying to find out what your perfect lipstick is? It is: Pink Grapefruit by Laura Mercier
. See it on Amazon
(UK - click here
) or on eBay
It is not a lipstick actually, it is a parfait. And it is not coral red (it would immediately make you look overdone) it is GENTLE coral red. It is a very light, gentle, 'baby-like' coral red made to go perfectly with your beautiful light blue eyes.
It is a very fresh looking color and it will work for any age group. Again, please refer to the very first image of this article. I have it on on that photo.
If using lipstick on a daily basis is not your thing, then you may want to use just a lightly colored lip gloss.
Step 7: Lip pencil. Takes less than 30 sec to apply.
You may be tempted to skip this step, but let me show you an example of lips with and without pencil applied. See the difference?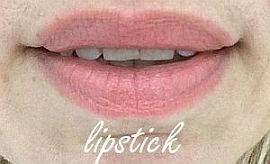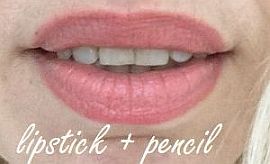 Lip pencil that goes with this particular lipstick: AmazonLaura Mercier Lip Pencil Potpourri
. It goes with a sharpener! See it on Amazon
(UK - click here
) or on eBay.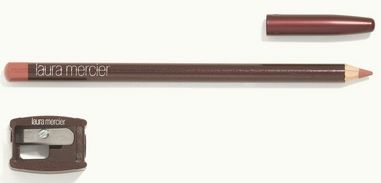 Step 8: Matching nail polish (optional)
This good quality nail polish will go with the rest of what you have already.

Well, as far as applying makeup goes, we are finished at this point.
BUT, don't you want to know how to remove it? At the end of the day, when you go to bed, don't you want your face to be clean?
To tell you the truth, lots of makeups - especially the waterproof ones – are a pain in the *ss to remove. Since this article is getting too long I'll try to make it to the point.
To remove eye makeup completely use cotton balls and cream POND's Moisturizing Deep Cleanser and Make-up Remover
. See it on Amazon
(UK - click here
) or on eBay. It works fantastic on waterproof makeup as well! Here is what it looks like: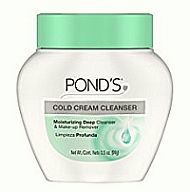 To wash face after that use Neutrogena Fresh Foaming Cleanser a Make-up Remover and Cleanser in One. See it on Amazon
(UK - click here
) or on eBay.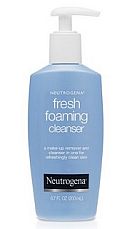 WE ARE ALL DONE NOW! It took me many hours to put it all together for you, but I think it was worth it. Hope I solved your problem and now it is time to get busy making yourself beautiful! : )
If you have questions please contact me via this contact page.
Your friend, Alexandra.
As an Amazon Associate I earn from qualifying purchases.
YOU MAY ALSO LIKE: Articles - Do you have 'the look' of a commercial print model? and How to pick the right lipstick color for your looks (with images)