Best british shorthair breeders and the ones to avoid!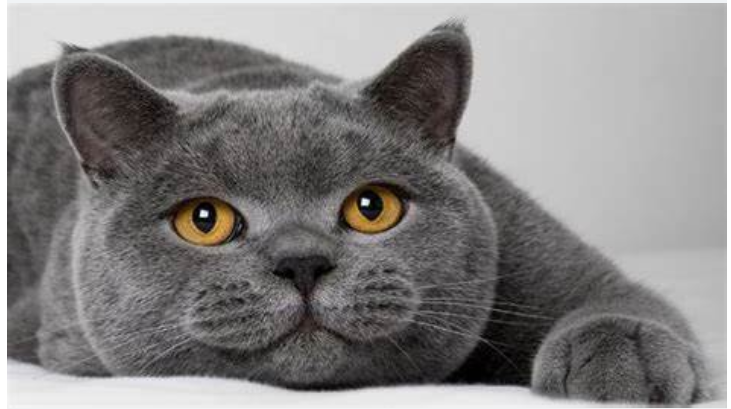 Are you looking to buy a british shorthair kitten from one of the best british shorthair breeders? Good for you!! I am here to guide you and help not to make a mistake.
Who I am: I am the owner of two adorable british shorthair cats (youtube chanel) and I have been having cats my entire life. I have been through the drill of buying british shorthair kittens several times and know how it all works lol.
Below is the list of the best british shorthair breeders and also a list of breeders you may want to avoid.
This list was compiled based on experience of customers and multiple reviews on different independent platforms (the platforms that do not remove negative reviews for pay)

The Best British Shorthair breeders in USA:
Cheshire Smile Cattery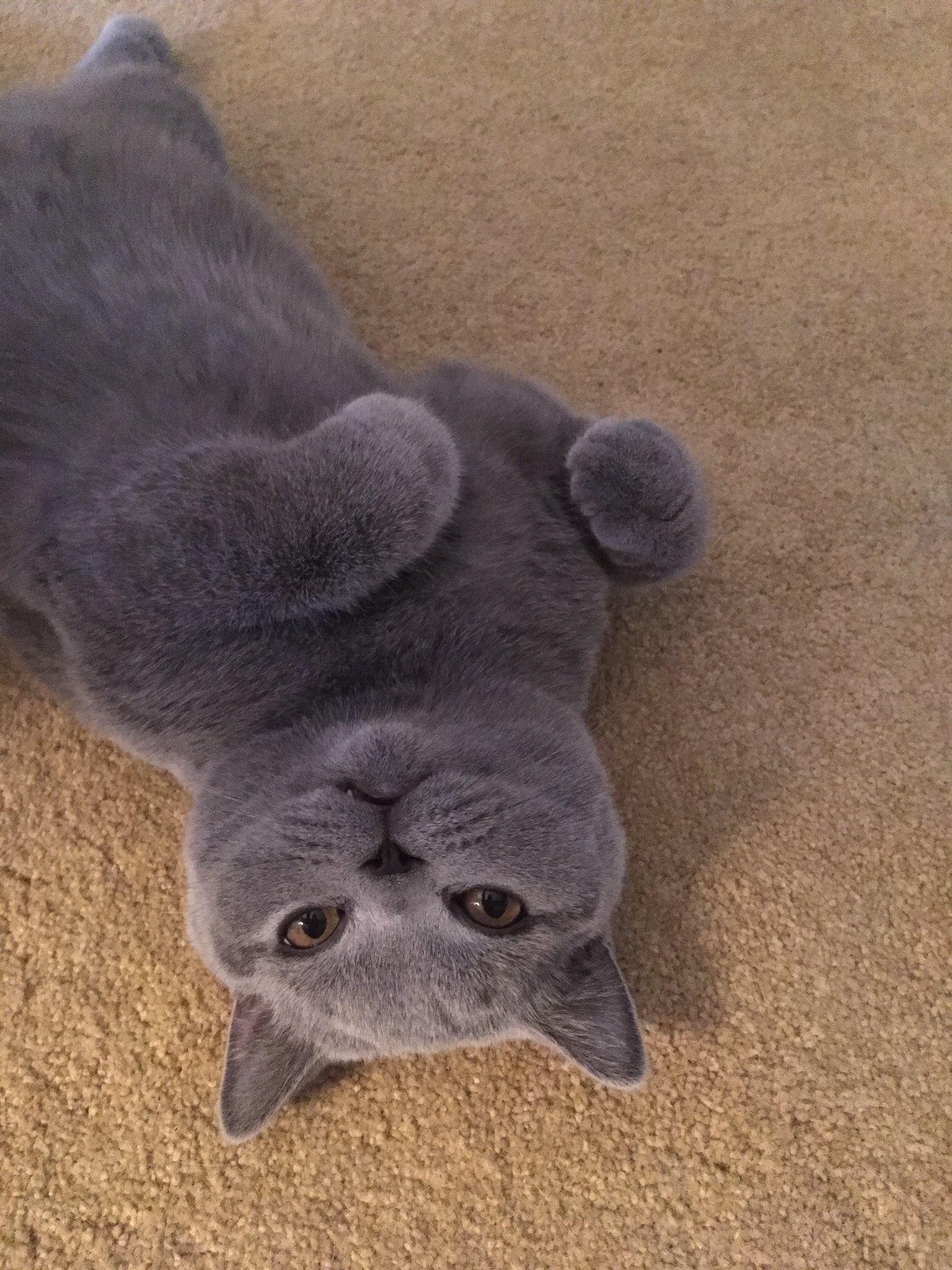 Location: New York, NY
Website:www.Cheshiresmile.org
Facebook: https://www.facebook.com/nycheshire
Instagram: cheshiresmilecattery
www.instagram.com/cheshiresmilecattery/
E-mail: valentin2525@aol.com
Breeder: Marina Boss
Phone: (646) 226-5605
Marina Boss has a strong presence on Facebook and her website has a limited amount of pictures. She is easy to work with and is available to answer all of your questions!
Image credit: this is the cat from her cattery! So cute 🙂

Makshine Cats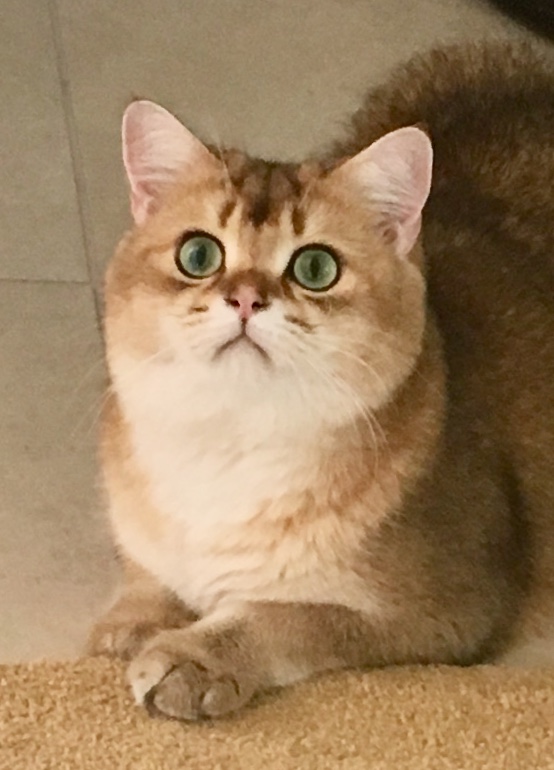 Location: Miami, FL
Instagram: https://instagram.com/makshinecats?igshid=YmMyMTA2M2Y=
Facebook page: https://www.facebook.com/MakShinecats?mibextid=ZbWKwL
Youtube: https://www.youtube.com/@makshinebabies4938
Website: www.makshinecats.com (beautiful website)
E-mail: makshinecats@gmail.com
Breeder's name: Inna
Inna breeds golden british shorthair cats. If you live in Florida she will deliver the kitten for you for free! Image credit: this is one of her adorable cats!

British Glory Cattery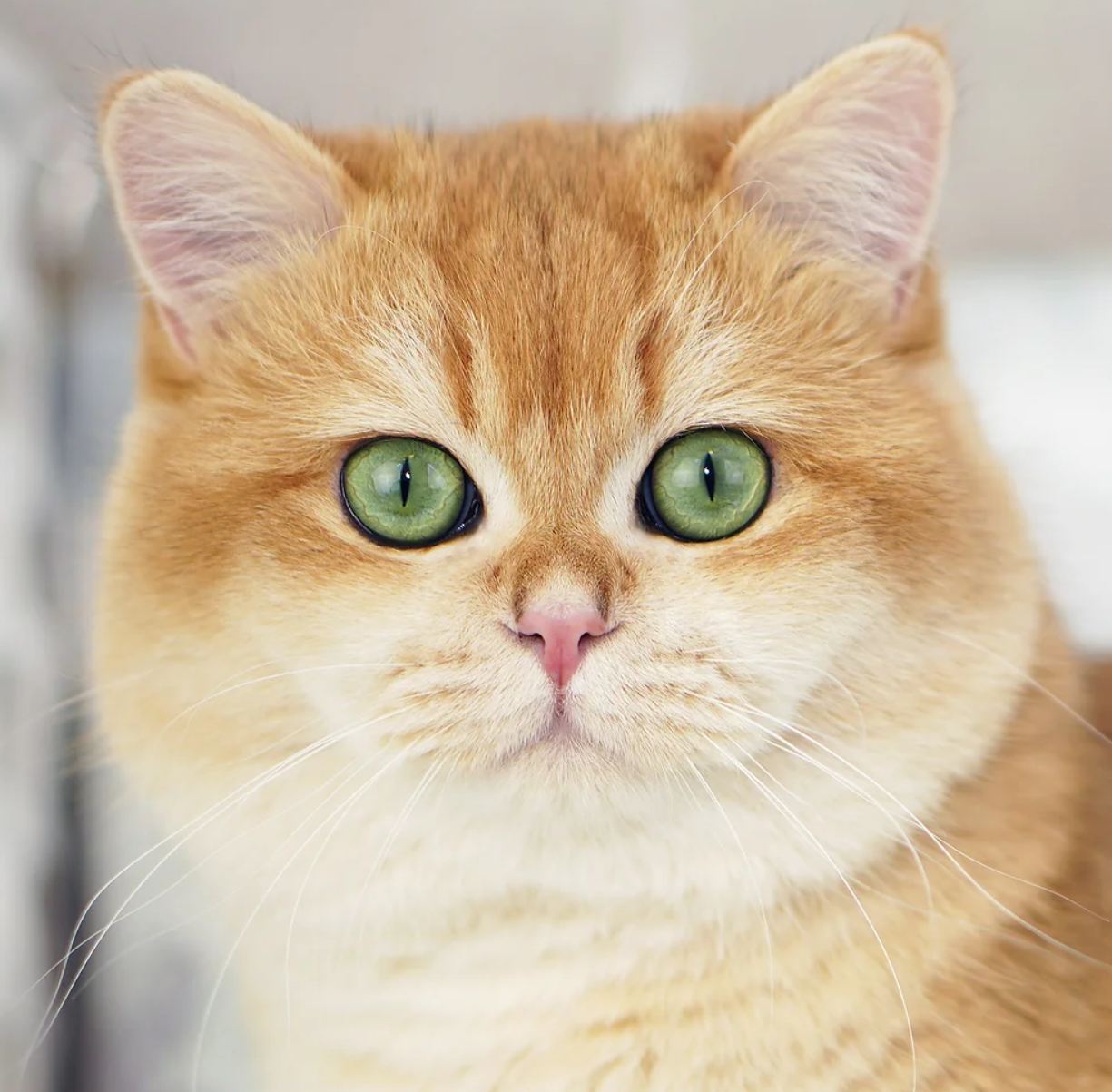 Location: Houston, TX
Website: https://www.britishcatusa.com/
Instagram: https://www.instagram.com/british_glory/
Facebook: https://www.facebook.com/britishglorycats
Email:  info@britishcatusa.com
Phone: (215) 966-9718
A friendly, home based cattery. They also breed long-hair british cats.
Image credit: British Glory Cattery.

Things to be aware of and the names of the breeders to avoid (see the list below):
If you are new to this and feel a little bit lost, then here are 3 things you need to be aware of. This knowledge will be super useful when looking for a british shorthair kitten.
1) It is believed by many naïve people that if a breeder is listed on TICA, then the breeder is a sure bet and a guarantee of best of the best. WRONG! Do not be fooled by the TICA website. Yelp reviews are full of complains about breeders listed on TICA (see examples below)! TICA does not control, supervise or check breeders. Any breeder can get listed on TICA. All he/she needs to do is to pay an annual $78 fee (approx amount) and that's it.
2) Do not judge a breeder by his/her website. Bad breeders with multiple negative reviews may have nice looking websites (see examples below) and the good ones may have poorly developed and poorly looking websites or no website at all!
Why is that?
Creating and maintaining a website is time consuming and expensive. I am not even mentioning technical skills needed to handle this. Since most breeders are in it for cats and not some IT geeky stuff you may now (hopefully) understand why not all of them have websites. The best platform to check on a breeder would be Facebook/Meta and Instagram.
I'll give you a hint however. To spot a bad breeder with a beautiful website is still easy. Ignore the large static photos of cute healthy cats and check on the ones that get updated periodically – like 'our kittens' or 'available kittens'.
Do the kittens look skinny and malnourished? If you are not sure – simply compare images of kittens between different websites/breeders and you will know immediately.
3) After making a purchase you (usually) have only 2 weeks to claim your money back. It is up to you to take the kitten to the vet for a checkup within this time frame. Anything that happens after two weeks – good luck with that. Exception – genetic disorder.
There is a large website called AVVO. It is a great place to find a reputable lawyer or get free legal advice. Reading complains of heartbroken customers about breeders and sick or dying pets is very disturbing to say the least. Do not be one of those customers. Purebreds are expensive!
"But how is this mess even possible?" – you may ask.
This is because the breeders in the USA are not regulated by any entity and are not under jurisdiction of anything or anyone. It is an unregulated business that can be conducted by anyone. No special license or permit required to be a 'breeder', which means – it is YOUR JOB to do research.

The names of the breeders with negative reviews
I personally would not recommend a breeder with negative reviews or MIXED reviews. Why?
Imagine that: what restaurant would you go – the one with 1, 2 and some 5 star reviews or the one with solid 4 and 5 star reviews? Places with negative reviews scream 'red alert'. There is definitely something fishy going on. Russian Roulette, anyone? Why take a risk??
You do not want to be in place of any of these miserable customers! See below.

Fruitful Cattery
Location: Brooklyn, NY 11224 Coney Island
This breeder is listed on TICA and has issued a fake 'health guarantee' document to a buyer.
Here is the link to the full review:
https://www.yelp.com/biz/fruitful-cattery-brooklyn-2?osq=british+shorthair+Cattery

British Dynasty Cattery
Location: Kelso County, Washington state/ Oregon state
Website: https://britishdynasty.com
Multiple complains about sick and dying kittens and also rudeness of the breeder 'Galina' ('Lina')
Yelp reviews: https://www.yelp.com/biz/british-dynasty-cattery-kelso-2?start=10
Some snapshots and feedback from her buyers. Can you believe that this breeder is actually listed on TICA?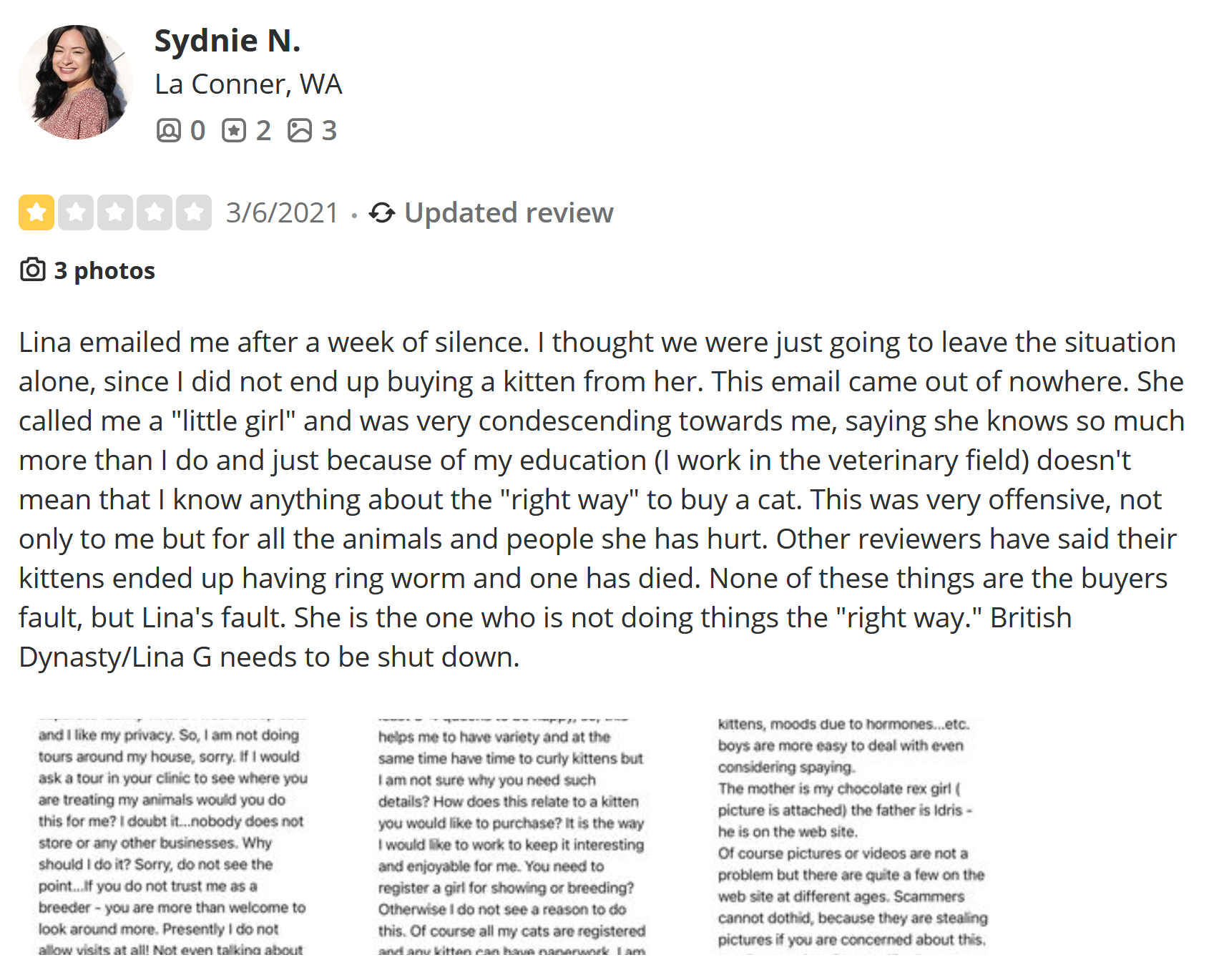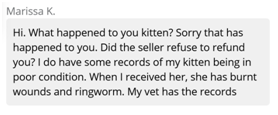 Ragnarok Cattery
Location: 5510 Ptolemy Way, Jurupa Valley, CA 91752
Sells sick and dying kittens. The photos posted by heartbroken customers are difficult to look at.
Here is the link to multiple negative reviews:
https://www.yelp.com/biz/ragnarok-cattery-jurupa-valley-2
Snapshots of some negative reviews from unhappy customers: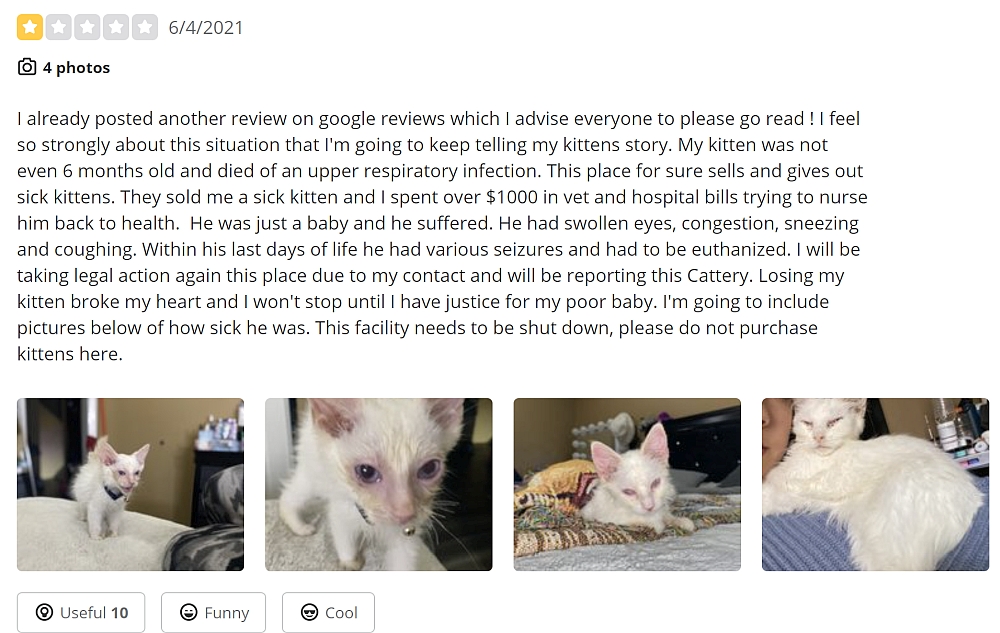 As for the 'not recommended' reviews on Yelp – it is all pre-programmed and totally software driven. I would take those in consideration as well. Here is the response from Yelp.
"Our recommendation software is entirely automated and applies the same rules to every business. The reviews that are recommended for any business can change over time as Yelp's software learns more about the reviewer and the business. Not recommended reviews are still visible to consumers and can be found through a link on the bottom of Yelp business pages.
Please note no employee at Yelp has the ability to override the decisions that the software makes. This approach is deliberate to avoid conflicts of interest"
Please keep in mind that this list is not all inclusive. Looking for the best british shorthair breeder may seem like a daunting task, but it shouldn't be.  You can use the above listed info as guidance. After all, it takes only ONE breeder to get a kitten!
GOOD LUCK TO YOU!
Useful links: 10 Best British Shorthair breeders - see this article posted by a Bubbly Pet.
7 british shorthair breeders - only the best for you
Cat breeders complaints: https://www.complaintsboard.com/cat-breeders/page/10